Goths flock to seaside town for 22nd Whitby Goth Weekend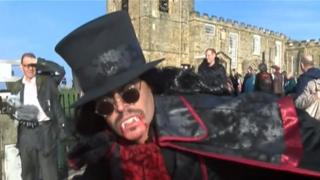 The seaside resort of Whitby has become a "goth-magnet" for its 22nd annual Goth Weekend.
The town is closely associated with Bram Stoker's gothic novel, Dracula, which prompted the event.
It began in 1994 and and has grown into a world renowned event for people with a variety of interests and backgrounds.
Businesses report it generates £1m in revenue across the weekend at what is otherwise a quiet time of year.
The 2016 line-up includes music from Heaven 17, The Mission and Skeletal Family, all playing at Whitby Spa Pavilion.
Up to 7,000 people are expected to visit the town during the weekend.