Delay to North Yorkshire airport's 'VIP' flights plan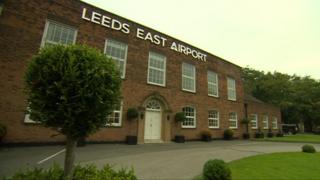 Plans to offer charter flights from a former RAF station in North Yorkshire have been put on hold.
Owners of the Leeds East Airport at Church Fenton, Tadcaster, hoped to offer up to four daily "VIP" flights to Cannes, Faro and Malaga from next year.
However, the airport said it now needed to apply for an additional licence to allow flights to land at the airport using satellite navigation.
Private and commercial flights will still continue.
More on this and other North Yorkshire stories
The airfield was built in the 1930s and served as a fighter base during World War Two.
It was closed by the Ministry of Defence in December 2013 before being bought by businessman Chris Makin.
It has branched out into providing space for film and TV productions.
Some of the interiors for the recent ITV drama Victoria were filmed in one of the hangars.