Clifford's Tower complaints 'should not be ignored'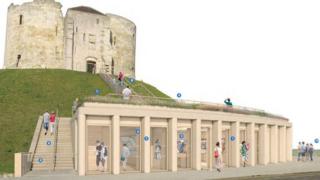 An MP has said the complaints over plans to construct a controversial visitor centre at York's Clifford's Tower should "not be ignored".
English Heritage has been granted permission for a £2m improvement scheme for the 13th century tower.
Plans include the visitor centre, described on a petition that has attracted 3,000 signatures as "ugly beyond belief".
York Central's Labour MP has urged the organisation to rethink its' plans.
Rachel Maskell said: "When people across York speak and voice their objections, it is vital that they are listened to."
Read more about this and other stories from across York and North Yorkshire
Objectors claim the centre, to be built into the base of the mound, would damage views of the tower.
It is part of a wider scheme to improve both interpretation and access to the ruin.
Planning councillor's granted permission by 11 votes to three in October and work is expected to begin later in the year.
Liz Page, director of properties in the north for English Heritage, said the organisation had been through a rigorous and open process.
"I think we have been slightly surprised at this level of opposition at this late stage after we have received planning permission," she said.
"Obviously we are willing to listen to people but we have got planning permission for this design which has been arrived at after a very long process."
Ms Maskell said she wanted those opposed to the scheme, English Heritage and the council to "sit down together to find the right solution"
"We cannot lose important aspects of this site and spoil the heritage of York for future generations," she said.