'Naked Robin Hood' Hardraw Force waterfall for sale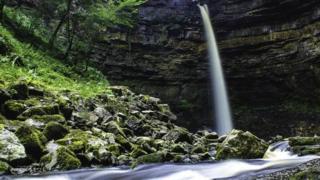 A pub complete with a waterfall in which Kevin Costner bathed naked in the film Robin Hood: Prince Of Thieves has been put up for sale.
The Green Dragon Inn, which dates back to the 13th Century, is on the market for £1.5m.
The price tag includes parkland, a visitor centre, a campsite and Hardraw Force waterfall.
The beauty spot was used to film the scene where Maid Marian catches Robin Hood bathing naked in the 1991 film.
'Someone with vision'
Current owner Mark Thompson bought the pub for £375,000 in 2001 and is retiring due to ill health.
He said he wants "someone with vision" to come in and take over the running of the pub and other attractions on the site.
Mr Thompson said: "I'm hoping [the purchaser is] somebody who may be slightly eccentric, somebody that's involved in the arts, a romantic."
The pub was on the market in 2014, but the landlord said it made more sense to put the whole site up for sale.
The Hardraw Scaur Brass Band Festival, said to be one Britain's oldest outdoor contests of its kind, also takes place in the grounds.