Sword stolen from York Minster Constantine statue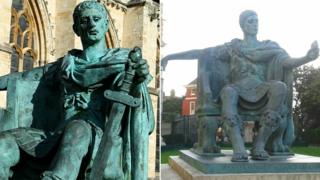 A sword forming part of an iconic York Minster statue was stolen.
Police said the sword was taken from the statue of Roman emperor Constantine on Wednesday night and a man was seen "brandishing it".
A 31-year-old man was arrested on suspicion of causing damage to the statue and has been released on bail pending further police inquiries. The missing sword was found nearby.
The statue stands between the Minster and the Church of St Michael le Belfry.
A Yorkshire Minster spokesperson said the sword had been "kicked out" of the statue, leaving it "badly vandalised".
Constantine arrived in Britain with his father, the Roman emperor Constantius, in AD305.
He was proclaimed emperor of York the following year after his father's death.
The statue, commissioned by the York Civic Trust and sculpted by Philip Jackson, was unveiled in 1998.