'World's fastest shed' attempts airfield record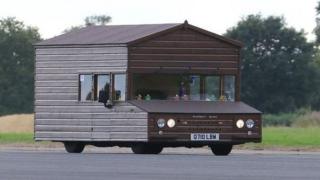 "The world's fastest shed" and a jet-powered hearse were among wacky vehicles attempting world speed records.
Ian King broke a standing start record at the annual Straightliners UK weekend at Elvington Airfield, North Yorkshire, on his Gulf Oil Top Fuel Drag Bike.
Organisers said he made a two-way average of 9.5215 seconds.
Kimberly Schijven, from Holland, was the first female rider to complete a kilometre wheelie.
She reached a speed of 139.7mph (224.8kmph).
The Gulf Oil Top Fuel Drag Bike is said to be one of the fastest-accelerating motorbikes in the world.
Straightliners UK said it can out-accelerate "most vehicles from a standing start", including all Formula One cars and even Thrust SSC and F15 Jet Fighter planes.
However, the speed events were overshadowed when a 43-year-old man was airlifted to hospital after he crashed his gas turbine motorcycle.
Drivers attempted British, European and World speed records on conventional high-powered bikes and four wheel vehicles.
Unusual vehicles also went for records, including the Silver Bullet, a high-powered sled ridden by 72-year-old Trevor Duckworth, who started the event 11 years ago.