New North Yorkshire airport to offer 'VIP' flights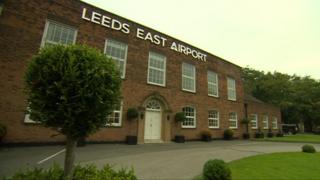 A former RAF base in North Yorkshire is hoping to offer "VIP" charter flights from next year.
Owners of the Leeds East Airport at Church Fenton, Tadcaster, said they had applied for an operator's licence by the Civil Aviation Authority (CAA).
It plans to offer up to four flights a day to Cannes, Faro and Malaga from May 2017.
Residents have raised concerns over aircraft noise and an increase in traffic congestion.
Church Fenton parish councillor Jo Mason said the community had not been consulted over the plans.
"This is in very much a residential rural area," she said.
"An RAF training camp is not the same thing as a commercial airport."
In a statement, the CAA said: "We are currently finalising the aerodrome licensing process for Leeds East Airport."
'VIP service'
Sally Rafferty, general manager of the airport, said there were no plans to introduce scheduled flights but the airfield would concentrate on a limited number of "VIP service" charter flights costing around £1,000 per person for a return ticket.
"This airfield has been here for 76 years," she said.
"In 2005 there were more than 5,000 flights in the year. We're not looking at anything like this."
The airfield was built in the 1930s and served as a fighter base during World War Two.
It was closed by the Ministry of Defence in December 2013 before being bought by businessman Chris Makin.
It has branched out into providing space for film and TV productions.
Some of the interiors for the recent ITV drama Victoria were filmed in one of the hangars.