A170 Sutton Bank closed for maintenance work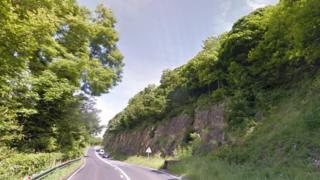 One of the steepest A-roads in England has closed for essential maintenance work.
The A170 at Sutton Bank in the North York Moors has a one-in-four gradient and is frequently blocked by large vehicles.
North Yorkshire County Council said work on the "extreme gradient" road would take about a week.
Work includes maintenance of a roadside rock face, with traffic diverted through Coxwold and Ampleforth.
The A170 climbs 160 metres (524ft) from the Valley of York to the top of the North York Moors in less than one mile.
It has a ban on cars towing caravans and has resulted in numerous campaigns calling for lorries to be banned due to the number of blockages caused by HGVs.
North Yorkshire Police said, on average, more than 120 goods vehicles per year fail to make the ascent and require police assistance to proceed.