Drunk man jailed for plane's diversion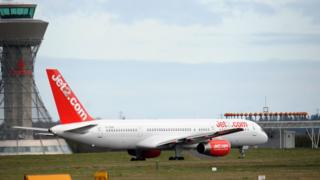 A man has been jailed for six months after his drunken behaviour led to a plane being diverted.
Joshua Strickland, 21, threatened a family and a member of the cabin crew on the Jet2.com flight from Leeds Bradford to Larnaca in July.
The plane was forced to land at Manchester Airport where Strickland was arrested.
He pleaded guilty to being drunk on an aircraft in a hearing last month at Manchester Crown Court.
The court heard when a member of staff attempted to calm him down, the defendant "began to punch the seats".
Strickland, of Lucas Ave, Clifton, near York was previously fined £12,000 by Jet2.com and banned from the airline for life.
'Zero tolerance'
Phil Ward, managing director of Jet2.com, said: "We are thrilled with the decision by Manchester Crown Court today.
"Joshua Strickland's violent outburst was absolutely unacceptable and caused a lot of distress, plus significant delays for our customers."
The airline said that it had introduced a "zero tolerance stance against disruptive passenger behaviour", including a ban of onboard sales of alcohol before 08:00.
The company added that 500 of its passengers had been refused travel and more than 60 had been given lifetime bans.