York could ban pavement advertising boards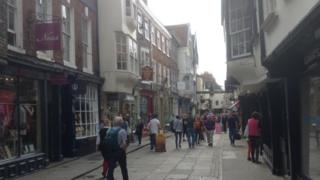 York City Council is to consider banning advertising boards from pavements in the city centre.
A new "prohibition zone" banning the boards from pavements within the city's inner ring road could be trialled for 12 months from January.
Such boards obstructing the footpaths leave little "safe space" for pedestrians to use, the council said.
Councillor Ian Gillies said: "This has been a long-standing issue here in York."
York city centre has many narrow streets that still follow the old pattern within the medieval city walls.
Some street layouts even follow Viking property boundaries that date back 1,000 years.
Obstruction of the footway was "a growing concern" and "a very real problem" for people who are blind, partially sighted or use a wheelchair, the council said.
Alternatives to using boards on the pavement will be discussed with businesses within the zone, the council said.
The only exception to the proposed rule is on Micklegate, where businesses would need a licence to put a board on the highway.
The new policy will go before the council's executive on 25 August.