River trio 'save car plunge man's life'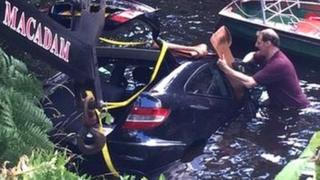 Two men and a dog saved an 86-year-old man's life when they waded into a river after his car plunged into the water.
North Yorkshire Police said the men "averted tragedy" by pulling him to safety after the car ended up in the River Nidd in Knaresborough.
The pensioner from Wakefield, who did not want to be named, suffered cuts and grazes but was otherwise unhurt.
Insp Clive Turner, of North Yorkshire Police, said there was "no doubt" the trio had saved his life.
Alex Hastings, Dean Logan and Hope the dog went into the river after the black Mercedes crashed into the water from Conyngham Hall car park at 10:35 BST on Saturday.
North Yorkshire PCSO 3573 Matt Murphy tweeted: "Alex, Dean & Hope the dog our local hero's pulled a male from the car Conyngham hall all safe."
Insp Turner added the outcome "could have been tragic".
"Rivers are dangerous bodies of water and the two men risked their own lives in the process," he said.
"We extend a very big thank you to them, they should be extremely proud of what they have done."
He said the rescuers would be put forward for a bravery award.
The car became completely submerged and was pulled out by a recovery vehicle some time later.