North Yorkshire NHS group to stop gluten-free prescriptions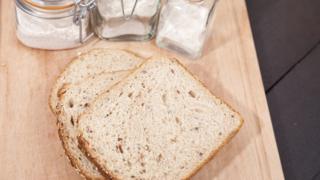 Gluten-free food prescriptions will only be available to coeliac patients with "exceptional circumstances" in a part of North Yorkshire.
Hambleton, Richmondshire and Whitby clinical commissioning group (CCG) spends about £92,000 a year prescribing gluten-free staple foods.
It said the cost of such products in supermarkets had reduced due to greater availability.
Charity Coeliac UK said it was concerned by the news.
Coeliac disease is treated by following a strict diet and people can get prescriptions for staple foods including bread, flour and pasta.
It is down to the policy of individual CCGs to determine what level of funding it will provide for patients.
'Dire move'
The CCG said it was restricting prescriptions from 1 September but patients considered "vulnerable", such as those in low income households, would be assessed as to whether they would continue to receive prescriptions.
The charity refuted claims gluten-free goods were now cheaper in supermarkets and said they could be up to four times more expensive than standard foods.
Patient Vicki Gilbert, whose two children, aged five and 14 also have the disease, said it was a "dire move".
Ms Gilbert, who runs a support group for parents worldwide, said she feared it would have a "domino effect" on other CCGs across the region.
She said: "We benefit from prescriptions at the moment but it still costs me £40 extra a week for food for the three of us."