Plumpton Rocks restored after £700,000 project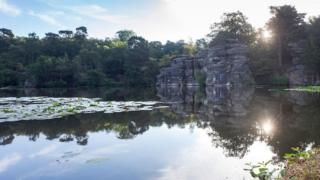 An 18th Century landscape, which features in a forthcoming film, has undergone a restoration after being put on the at-risk register.
Plumpton Rocks faced the prospect of decaying beyond repair, but £700,000 was raised for the three-year project.
The gardens, near Harrogate, re-opened to the public on Saturday having been closed for a number of months.
The attraction will feature in the forthcoming film Swallows and Amazons, which will be released on 19 August.
The grounds of the 35 acre site include a parkland, lake, woodland and Grade-II listed dam.
Restoration has focused on these areas including the desilting of the lake, taking it back to its original 18th Century proportions.
The gardens, once described by Queen Mary as "heaven on earth", have a rich history.
The site has been owned by the Plumpton family since at least the Norman conquest, with a period of ownership also by the Lascelles of Harewood House, Leeds in the 1750s.
The gardens were once a medieval deer park and fish ponds and legend has it that Robin Hood poached deer here.
Turner painted two views of the lake and rocks in 1798 - his first commission in oils - both of which still hang in Harewood House.