Yorkshire Museum: Appeal to save 'stunning' Roman hoard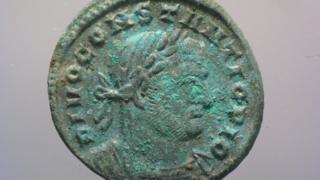 An appeal has been launched to save the largest Roman hoard of its type discovered in the north of England.
More than 1,800 Roman coins were discovered by a metal detectorist near the village of Wold Newton, East Yorkshire, in 2014.
The coins date back to 307AD, and feature Emperor Constantius as well as the first coins to proclaim his son, Constantine the Great.
The Yorkshire Museum needs to raise £44,200 to secure the collection.
More on this and other local stories across North Yorkshire
Andrew Woods, from the York-based museum, said: "This is an absolutely stunning find with a strong connection to one of the most significant periods in York's Roman history.
"These hauls don't turn up very often - the last similar one was found in the 1940s, so if we don't get this, the chances of finding another one are very slim."
He said if the museum failed to raise the funds the hoard would be sold within the trade.
The appeal, which launched earlier, marks 1,710 years to the day since the death of Constantius in York and his dying wish that Constantine should be his successor.
Part of the collection is on display at the Yorkshire Museum until October.
---
The Hoard - Fine fish, chickens and ale
The hoard contains 1,857 Roman copper coins in a ceramic vessel. The coins, known as nummi, are around 3cm (1.1in) in size and represent the typical currency of the fourth century
At the time of burial, the hoard was worth the equivalent of a legionary's annual salary, three years salary for a carpenter or six years for a farm labourer. It could buy 700 chickens, 2,000 of the finest fish or 11,000 pints of beer
It is the largest hoard found from the period in the north of England and the second largest found in the country; the largest, the Fyfield Hoard was found in 1944 and is now at the Ashmoleon in Oxford
Source Yorkshire Museum
---