Historic bomb forces evacuations in Harrogate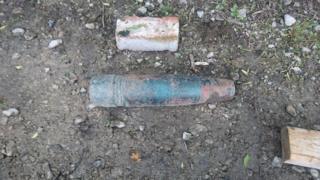 An unexploded historic shell found at a property in Harrogate prompted road closures and evacuations.
North Yorkshire Police said the shell was discovered at a house on Bogs Lane at around 13:10 BST.
Neighbouring properties were evacuated and a 100m cordon was established. Bogs Lane and Kingsley Drive were both closed to traffic.
The force said an Explosive Ordnance Disposal (EOD) team had removed the shell and disposed of it,.