Jewellery belonging to the dead stolen from York funeral director's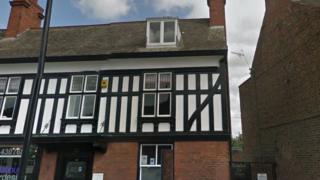 Jewellery belonging to people awaiting burial has been stolen from a funeral director's premises in York.
Martin Rowley, who owns Rowley and Sons in Lawrence Street, said the thief had taken a safe containing rings and other items from the offices.
The items, which belonged to five people, had "little value but had great sentimental value", Mr Rowley added.
The theft happened on 19 May. Mr Rowley said he hoped his appeal now would prick the thief's conscience.
More on this and other North Yorkshire stories.
Mr Rowley said he was "angry and sad" about what had happened.
"My hope is they realise there is nothing in the safe of any value and they leave it somewhere or bring it back," he said.
It is understood the thief had pretended to visit the offices of the charity on the first floor of the building, before entering the boardroom and stealing the safe and a video projector.
North Yorkshire Police said anyone who had any information about the theft should contact them or Crimestoppers.