World War II veterans given France's Légion d'Honneur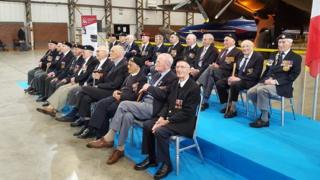 France's highest military honour has been given to 21 World War Two veterans from across the north of England.
The men, all aged in their 90s, were awarded the Légion d'Honneur during a ceremony held inside a hangar at Yorkshire Air Museum in Elvington, York with a backdrop of a Halifax bomber.
The honour marks their roles in Europe's liberation from the Nazis.
They all served with either the British navy, army or Royal Air Force during the D-Day invasion of Normandy in 1944.
D-Day was the first stage of the Allied invasion of Nazi-occupied Europe, changing the course of the war.
---
---
Following its 70th anniversary, French President François Hollande pledged to honour all those British veterans who had served in his country during the war.
The award was presented on behalf of the French government by Jeremy Burton, French consul to Yorkshire.
Recipient Harry Ramsey, who was a private in the Royal Army Medical Corps and is from Leeds, said: "I lost a lot of my friends, and I think most of my life was spent and left there."