York £62m flood protection plans on display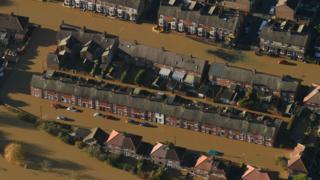 Plans for a £62m upgrade to York's flood defences developed by the Environment Agency (EA) are on display.
Parts of the city were flooded when they were hit by heavy rain in December.
More than £17m will be spent on repairing and improving the Foss Barrier, which was raised leading to flooding, after fears it would fail.
The EA said it had secured an additional £45m for other work which would protect more than 2,000 homes.
Tony Andryszewski, EA project manager, said the public consultation was an important part of developing the flood defence plans.
'Flood resilience'
"I am really pleased that we have been able to secure this additional funding for York which means we can now start planning for improving the flood resilience of this important and historic city," he said.
"This is the start of our engagement with the residents and businesses of York and I look forward to hearing their views so we can deliver what is right for the city."
The EA's decision to raise the barrier on 26 December caused anger among some residents after the lifting of the gate led to their homes flooding.
A recent report said the defence was in danger of failing after water entered the control room through a leak in a service tunnel.
Work on the Foss Barrier is expected to be completed by December 2017, with work on the other flood defences starting in 2018.