Kirby Misperton fracking: Third Energy granted environmental permits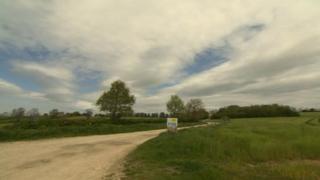 The Environment Agency has granted energy firm Third Energy a permit to frack at a site in North Yorkshire.
Third Energy wants to extract shale gas near Kirby Misperton, in Ryedale. It still needs planning permission.
A application was submitted to North Yorkshire County Council last year, but no decision has yet been taken.
Third Energy said the permit marked an "important step" and demonstrated that fracking can be "managed without impacting on the local environment".
Under the conditions of the permit, the company must protect groundwater, surface water and air quality and to ensure the safe storage, management and disposal of waste at the site known as KM8.
The agency said it carried out a "rigorous assessment" of the proposal and the results of two public consultations.
'Evaluate potential'
Martin Christmas, the agency's environment manager for North Yorkshire, said: "After completing a thorough assessment of Third Energy's application and all of the responses to our public consultations, we are confident that these environmental permits set out the right conditions to ensure that people and the environment are protected.
"Should Third Energy receive the appropriate planning permission and begin the permitted activities, we will stringently enforce the conditions of the permits to ensure that waste is managed properly and local groundwater is protected."
Fracking is a technique for extracting gas or oil trapped between layers of rock by forcing the layers open using water under high pressure.
John Dewar, operations director for Third Energy, said: "This is another important step towards having the necessary permissions in place to fracture the KM8 well and evaluate the potential of the shale resource to produce gas commercially."