Northallerton Street Angels set for night-time revellers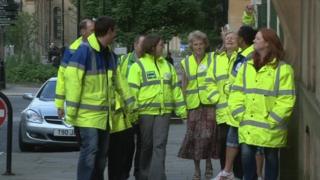 A volunteer group known as Street Angels is to start patrolling a North Yorkshire town at night-time.
Patrols in Northallerton are to start in May to help anybody in distress from having too much to drink.
Steve Cowie, pastor at New Life Baptist Church one of the groups behind the scheme, said it had about 40 volunteers training for the role.
Night Marshalls, a similar police-organised scheme in the town, was ended in 2014 after budget cuts.
Street Angels have no police powers and are not paramedics but are trained to help revellers.
Mr Cowie said Northallerton was a "very safe town in a very safe county" but there was still a "fallout from people having too much to drink".
The church had been contacted by North Yorkshire Police to take part, he said.
Volunteers are to receive training in first-aid, alcohol abuse awareness and will be in radio contact with the town's CCTV operators, added Mr Cowie
Street Angels operate in more than 130 towns and cities in the UK.