East End Park deaths: Photos released of three killed in fire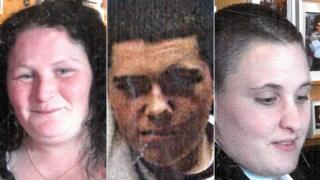 Photographs of three people who died following a house fire in Leeds have been released.
The bodies of Joanne Marie Semple, 36, Kelly Taylor-Hackett, 28, and Stephen Fitzgerald, 18, were found on Sunday after a blaze on East Park Street, East End Park.
Post-mortem examinations found all three died as a result of the fire, police said.
Three Rottweiler dogs were also found dead inside the terraced property.
The fire had burnt itself out before the emergency services arrived.
West Yorkshire Police said it continued to treat the deaths as unexplained.