York Minster: £20m restoration project completed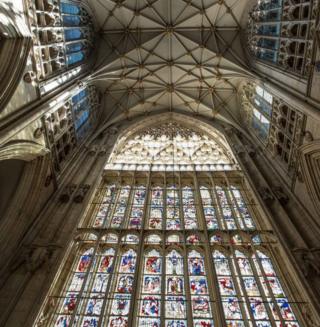 A £20m restoration project to improve York Minster has been completed following a topping out ceremony.
The scheme, said to be one of the largest restoration projects of its kind in Europe, included work to restore the cathedral's 600-year-old East Front and Great East Window.
The five-year project, which started in 2011, also saw the building of a new exhibition in the underground chambers.
A £10.5m grant from the Heritage Lottery Fund supported the project.
The Very Reverend Vivienne Faull, Dean of York, said: "The restoration of the window - one of the glories of medieval art and architecture - has been a decade in the making.
"It should be world famous as it was designed in the 15th Century with innovative techniques and wonderful detail. It's a delight that we have got it back."
The window, originally completed in 1408, is the size of a tennis court and has 311 panes.
The work required stonemasons, glaziers, curators and learning specialists, the Heritage Lottery Fund said.
---
York Minster restoration
The cathedral's East Front has been covered in about 16 miles of scaffolding
About 2,500 stones have been cut or repaired by stonemasons
The Great East Window is said to be the biggest medieval stained glass window in Europe
It has 311 panes and is 24m (78.7ft) tall
---