Flying Scotsman faces up to future self at York museum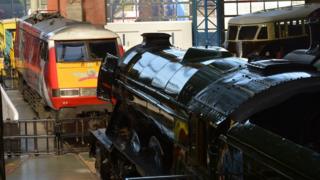 One of the world's most famous locomotives has come face-to-face with its modern-day counterpart.
Flying Scotsman, which recently underwent a £4.2m, decade-long refit, faced off against the Virgin Trains powercar of the same name at the National Railway Museum in York.
It was named after the Flying Scotsman service from Edinburgh to London.
The engines came together as part of the launch of the museum's Stunts, Speed and Style event.
The six-week long exhibition features the famous engine alongside three other locomotives which have pulled the Flying Scotsman service - GNR No 1, Henry Oakley and the newly restored King's Own Yorkshire Light Infantry.
---
Flying Scotsman
Designed by Sir Nigel Gresley, Flying Scotsman emerged from Doncaster Works on 24 February 1923
The British Empire Exhibition in 1924 made Flying Scotsman famous
In 1934, Scotsman was clocked at 100mph - officially the first locomotive to have reached that speed. But some claim City of Truro was the first steam engine to break the 100mph record, in 1904, when it apparently reached a speed of 102mph running down a slope
It is 70ft (21m) long and weighs about 96 tonnes
It has travelled approximately 2,500,000 miles
During World War Two it was repainted wartime black
By 1995 it was part-owned by record producer Pete Waterman
The engine was bought for the nation in 2004 by the National Railway Museum (NRM) in York using £415,000 in public donations, a £365,000 gift from Sir Richard Branson and a £1.8m grant from the National Heritage Memorial Fund
---