Vicar's wife jailed for stealing £6,400 from pensioner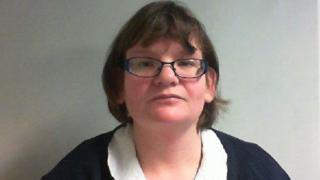 The wife of a vicar has been jailed for 10 months for stealing £6,400 from a woman with learning difficulties while working as her carer.
Ann Smale, 43, raided the accounts of 80-year-old Shirley Spiess while providing her with daily home care.
Smale, from Robin Hood's Bay, North Yorkshire, is married to the Reverend Simon Smale, Church of England Vicar of Fylingdales and Hawsker parish.
She had "no explanation at all" for her offences, York Crown Court heard.
'Money not needed'
Smale set up online banking with the victim's details under the pretext of buying the pensioner everyday essentials but withdrew £6,400 from cash machines over 18 months, the court was told.
When care company bosses spotted 16 unauthorised cash withdrawals from the victim's account, they called police.
Smale was arrested in November 2015 and confessed.
The court heard she had a previous conviction for theft and attempted fraud in 1999 for trying to cash a forged cheque.
Smale had no financial worries and "no explanation at all" for her latest offences, it was said.
The judge, Recorder Mark McKone, told her: "The strange feature of this case is that the money was not needed by you and it seems you have not spent the money on high living.
"But the public expects that carers who steal from the elderly are sent to prison."
Smale, of the vicarage, St Stephen's House in Laburnum Avenue, Robin Hood's Bay, admitted stealing £6,400 between April 2014 and November 2015 at the Halifax in Scarborough.
She also admitted further fraud and a second theft offence.
She originally appeared as Ann Cowton but informed the bench she had changed her name.
Mr Smale, a financial adviser to the church who is also a chartered accountant, was ordained in 2011 at York Minster.