Flood debris removed from River Nidd at Knaresborough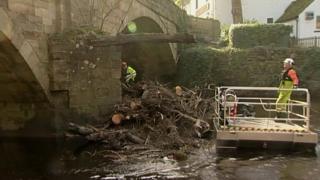 The Environment Agency (EA) is removing around 15 tonnes of debris from a North Yorkshire river to prevent flooding.
The debris at Low Bridge on the River Nidd in Knaresborough was washed downstream during severe flooding in December.
The EA said the debris, which includes large amounts of timber, could grow large enough to block the arches of the bridge if not removed.
The project is part of ongoing recovery work following December's floods.
Andrew Gannaway, from the agency, added: "Clearing the debris at Low Bridge is quite an important job because it can and does accumulate against the central pier of the bridge.
"It it isn't removed it would eventually block the water flow underneath the bridge arches."
The work, which is due to be completed by Sunday evening, has meant the temporary closure of the B6163 Knaresborough to Calcutt road.