Easingwold school bus flood driver 'no longer employed'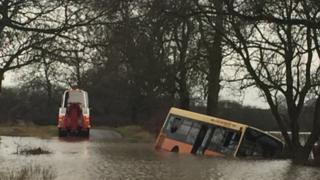 A driver who stranded a school bus in flood water near York no longer works for the company involved.
None of the 26 pupils from Easingwold School were injured when the bus was driven into flood water near Newton-on-Ouse on the 5 January.
The bus company said as a result of its investigation, the driver, who has not been named, was no longer employed.
North Yorkshire Police said the driver had been interviewed and its investigation was ongoing.
The bus company, Stephenson's of Easingwold, said: "A full report has been provided to the relevant authorities, including North Yorkshire County Council, and a communication to relevant parents has also been sent via the school secure mailing system.
"The company cannot comment further on any other investigation by other authorities but can confirm that, as a result of this incident, the driver concerned is no longer employed by the company."
North Yorkshire County Council said at the time of the incident the road had been closed due to flooding and it believed signs had been in place advertising the closure.