New Tadcaster to York bus service for flood-hit town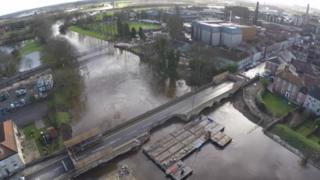 Council bosses have pledged up to £20,000 for a new bus service between Tadcaster and York while the flood-hit town's road bridge is rebuilt.
The bridge across the River Wharfe was closed to traffic after it partially collapsed in December.
North Yorkshire County Council said the new service would run hourly between Tadcaster and York.
The road bridge is expected to take up to 12-months to repair at a cost of £3m.
Chris Metcalfe, councillor for Tadcaster, said: "This is good news for the people of our town."
The council has said it will fund the new "Tadfaster" service for 12 weeks after which it will be operated commercially.
A temporary footbridge was opened in the town on Friday.
A daily shuttle bus service to take people from one side of the river to the other will continue to run every half hour between 07:00 and 19:00 GMT until 17 February, after which it will run hourly from 09:40 to 14:30.