Filey infant school action after children re-enact violent games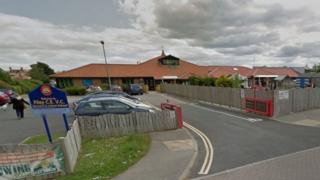 The head of an infant school has urged parents not to allow their children access to violent computer games after pupils were spotted re-enacting scenes.
Denise Crosier, from Filey Infant and Nursery School, North Yorkshire, said staff had noticed children as young as five acting out during playtimes.
Mrs Crosier said some children had mentioned receiving age-restricted games such as Grand Theft Auto and Call of Duty at Christmas.
The games both have an 18 certificate.
Emotional impact
"As we returned to school a number of staff expressed concern that children were speaking about receiving age inappropriate games," Mrs Crosier said.
"We were also seeing on the playground that children were play fighting, playing kicking games things like that which we don't normally have within the school."
The school caters for children aged between three and seven.
Mrs Crosier said she had discussed the issue with the school governors and had agreed to write to parents reminding them these types of games were inappropriate for children of that age.
"We have had support from parents that it has made them aware and highlighted the issue to them. I just asked them to be vigilant."
She said people had to be made aware of the impact accessing these games could have on children that young.
"They are not emotionally equipped to understand fantasy from reality with these games that are so very age inappropriate," Mrs Crosier said.