A59 at Kex Gill to remain shut until February due to landslip risk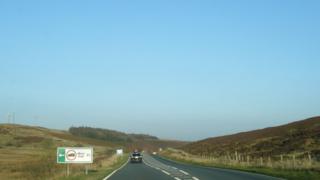 A stretch of road closed due to a risk of a landslip is likely to remain shut until the end of February.
The A59 at Kex Gill, between Harrogate and Skipton, closed on the 5 January after cracks were found on the hillside.
A recent survey revealed no further movement but a large amount of water is trapped at the the top of the area.
North Yorkshire County Council said it planned six weeks of work to drain the water as a temporary solution.
The road cannot reopen until the drainage solution is in place, along with a system of remote monitoring, the council said.
It was initially closed after movement of up to 800mm was found on the hillside.
The section of the road has been subject to numerous landslips and regular closures.
The county council said it remained committed to trying to gain funding to divert the A59 from Kex Gill to a more suitable route to the north.