York floods: Public walk out of 'waste-of-time' meeting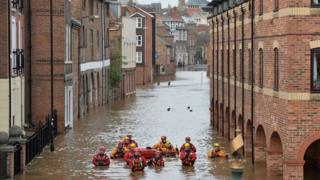 Residents hoping to quiz city leaders at a public meeting over their response to recent flooding in York have branded the event a "waste of time".
Hundreds of properties were flooded in the city after the Rivers Foss and Ouse burst their banks on Boxing Day.
The authority, emergency services and the Environment Agency are among those at the meeting in the Barbican.
Some of the 150 members of the public in attendance have started to walk out, according to BBC reporters.
Follow our live coverage from the meeting.
BBC Radio York reporter, Mike Kemp, said some of those leaving the meeting told him it was "not chaired well" and a "waste of time".
One audience member told the station's political reporter Gemma Dillon the event was a "PR exercise" and he had learned very little.
Earlier the council's chief executive Steve Stewart admitted the council needed to look at how people were kept informed during the floods.
He said, however, the authority had visited 900 properties at risk.
"The first priority [was] to make sure no-one died - and no-one did," he said.
See where York's river burst its banks using the slider below
December 2015
July 2007
Source: Google, Sentinal
The meeting addressed the decision to raise the Foss barrier, which is one of the city's principal flood defences.
But the Environment Agency said it was at a loss to explain why the barrier failed.
Mark Scott, from the agency, apologised and said it was "incredibly regrettable" that properties flooded.