David Cameron 'concerned' over Tadcaster bridge row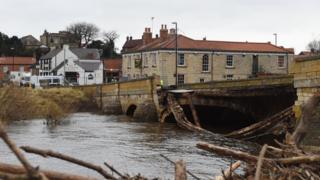 The prime minister has told an MP he is "very concerned" by a row over the construction of a temporary footbridge in Tadcaster.
The 18th Century road bridge over the River Wharfe collapsed during floods and the bridge is designed to reunite the town whilst it is repaired.
But, the land is owned by Samuel Smiths Brewery, which has refused permission.
Mr Cameron told the town's MP Nigel Adams, his office would be contacting the company.
"The prime minister asked me how I would like him to intervene and I understand No 10 officials will be putting together a plan and contacting the brewery," Mr Adams said.
In a fresh statement, the brewery has said it would consider granting permission, subject to being consulted about repairs to the road bridge.
'Matter of urgency'
It said this was an opportunity to improve the existing bridge to the benefit the whole town, explaining it should be widened to improve pedestrian access.
It said it feared without those improvements there would be significant public pressure to make the temporary footpath permanent.
"We would only agree to it [the temporary bridge] being sited on our land if the design and funding of the restoration and improvement of the listed bridge was agreed with us and the town first," it added.
Mr Adams said he hoped an agreement could be reached as it was crucial the bridge went ahead.
"We need to reunite the town as a matter of urgency," he said.
"It is a matter for the brewery. It is their land but there are a number of options for the government, some of them involve legal options, but lets see how discussions go."
The road bridge is expected to take up to 12 months to repair and the government is offering up to £300,000 to construct the temporary structure to allow pedestrian access over the river.