Bootham Park psychiatric hospital closed after 'significant risk' to patients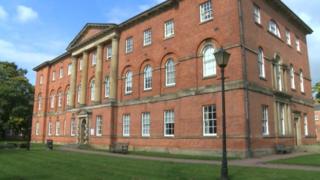 A psychiatric hospital in York closed after the health watchdog identified a "significant risk" to the safety of patients including a danger of suicide.
Bootham Park had insufficient staffing and poor hygiene, the Care Quality Commission (CQC) found in September.
The CQC's full report has now been published.
The hospital, run by Leeds and York Partnership NHS Foundation Trust (LYP), had already been deemed unsafe following an inspection last year.
The latest inspection at the Grade-I listed hospital was unannounced and the CQC found a number of serious safety concerns including unsafe water temperatures, insufficient staffing and risks of infection due to poor hygiene.
There was also the risk of suicide or serious harm to patients because of "potential ligature points" in the building.
Dr Paul Lelliott, of the CQC, said there had been a "significant risk" to the safety of patients.
Closure 'highly regrettable'
"We could not allow the service to continue indefinitely or allow a new application to open services at the hospital until those risks had been dealt with", he said.
Anthony Deery, of LYP, said: "The closure at such short notice was highly regrettable and we apologise to all patients and their families."
The trust welcomed the report and had put plans in place to address the concerns and made "determined efforts" to recruit staff, he said.
Despite work on the building it had been unable to bring the hospital up to the standards required, he added.
The Tees, Esk and Wear Valley NHS Foundation Trust had been awarded the contract to provide services at the hospital from October 2015.
A unit for people detained under the Mental Health Act, closed with the rest of the hospital, was reopened in December under its control.
The trust said outpatient services at the hospital would open "very soon" and adult inpatient beds would be available by the summer.