UK Floods: Germany Beck homes would increase 'flood strain'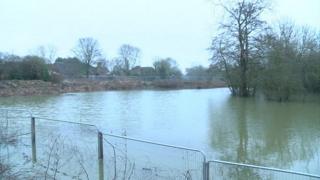 A planned development of more than 600 new houses in York would put a "huge strain" on existing homes already at risk from flooding, an MP has warned.
Julian Sturdy, Conservative MP for York Outer, said he backs a campaign to reconsider plans to build more than 600 properties in Germany Beck, Fulford.
The development was originally given the green light in 2007 but building work is yet to start.
Developer Persimmon Homes said the plans would minimise flooding risk.
Further concerns were raised by some residents after flooding at Fordlands Road, the access road to the development, following the Boxing Day floods.
Vivienne Clare, who lives nearby, said: "To build on areas that flood regularly is just nonsense; people around the area are extremely worried as the water has got to go somewhere.
"People have already been told that getting insurance is going to be more difficult in the future, it's a huge worry."
'Wider impact'
English Heritage previously said the site was historically significant as it remained the "most likely candidate" for the Battle of Fulford in 1066.
Mr Sturdy said: "I completely back the residents in Fulford. I've met with them many times over many years and campaigned against the development.
"We've got to look at the wider impact about what it will do to existing properties that are already at risk from flooding as well as the new houses.
"The new development would put a huge strain on existing properties."
Simon Usher, from Persimmon Homes, said: "Our Germany Beck development has complied with national government guidelines which seek to avoid developing in areas at risk of flooding as well as investing in the surrounding area by helping to reduce the causes and impacts of flooding.
"The houses themselves will be on elevated land already high enough to avoid flooding and the scheme offers the opportunity to raise the A19, reducing the chances of future road closure at times of flooding from the River Ouse."
City of York Council said no building is permitted which will "increase the risk of flooding".