York flood bus driver suspended from duty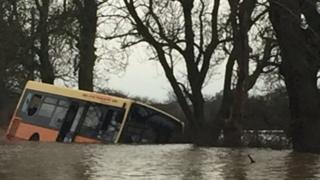 The driver of a school bus that became stuck in flood water after he allegedly ignored a road closure sign has been suspended from duty while an investigation takes place.
Nearly 30 pupils from Easingwold School had to be rescue when the vehicle became stuck near Newton-on-Ouse.
North Yorkshire County Council said the bus went through a road closure sign.
Bus operator, Stephenson's of Easingwold, said the "driver concerned is not engaged on driving duties".
The inquiry could take several days to complete.
Stephenson's of Easingwold said: "We are working closely with North Yorkshire County Council to establish the full chain of events that led to yesterday's unfortunate incident and can confirm that, during these investigations, the driver concerned is not engaged on driving duties with the company."
'Real error of judgement'
School pupil Grace Abbott told BBC Radio York the driver had gone past two signs before the vehicle became stranded.
She said: "It was like a river. You wouldn't go through it but he carried on driving and ran over a flood sign and then that's when he lost all control of the bus and all the water started gushing in."
Catherine Windrum, whose son and daughter were on the bus, told the Jeremy Vine show her children had been "quite shaken up" by the incident.
She said: "I think that as a bus driver he's got a duty of care to those students that he's carrying and I think the decision he's made was obviously the wrong one.
"He's put the lives of young people at risk as well as his own and that's where the real error of judgement has happened."