York flood victims to get £500 payment for clean up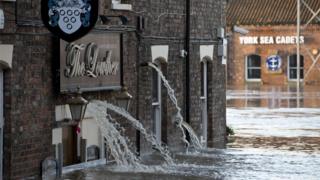 People in York whose homes have been flooded are to receive a one-off payment of £500 to help with the clean-up process, the council has said.
Hundreds of homes were badly affected after heavy rainfall on 26 December.
The authority said those paying council tax by direct debit would receive the funding directly into their bank account from later this week.
Affected households would also be exempt from paying council tax from 27 December until the end of March.
'Larger amounts'
Chief Executive of City of York Council Steve Stewart said: "The arrangements for financial support will kick in this week.
"Everyone who has been flooded [in the city] will get the one-off payment and then there is further financial assistance that can be given to residents and businesses on application.
"We'll be inviting people to apply for those larger amounts very shortly."
People who pay their bill by other methods would need to collect the money from the City of York Council's customer contact centre on Station Rise, or contact the authority.
Prime Minister David Cameron said earlier this week that flood defences "overwhelmed" by recent record rainfall would be fixed and bolstered in a £40m package of spending in Yorkshire.
About £10m would be spent on improving defences in York.