Thieves target York flood victims' homes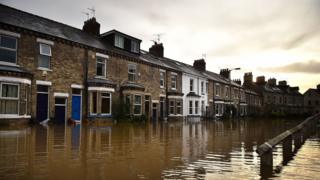 A dozen flood victims' homes have been targeted by thieves in York.
Four evacuated houses in the Huntington Road area and seven properties at a caravan site in the city have been burgled since the Rivers Ouse and Foss broke their banks.
North Yorkshire Police are also investigating an attempted burglary at a house in the Huntington Road area.
Acting Supt Mark Grange said the looting demonstrated the "worst of human nature".
Police and the Army are carrying out extra "reassurance patrols" he said.
"We have seen the best of human nature over these past few days, and the now the worst," he said
"I would like to reiterate my message to those who choose to add further misery to residents who have already suffered, North Yorkshire Police is doing everything possible to bring you to justice and make no mistake, you will face the full force of the law.
"I want to take this opportunity to remind residents to be vigilant and ensure property is as secure as it possibly can be, especially if they are not staying overnight."
The force said all 12 incidents were under investigation.