Rory Johnson-Hatfield disappearance has 'destroyed family'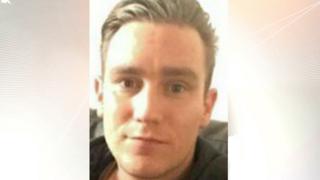 The family of a man missing for three weeks after a night out in York, say his disappearance has "destroyed" them.
Rory Johnson-Hatfield, 29, from Skipton, was last seen in York in the early hours of Friday 20 November.
CCTV images show him in Tower Street at about 00:40 GMT and in the City Mills area at 00:47.
His father Doug Hatfield said they had not given up hope of bringing him back "safe and well". Police have been searching the River Ouse.
Officers said their efforts have been hampered by recent flooding in the city.
'Hole in our hearts'
Mr Hatfield said: "Rory is a wonderful and much-loved son and brother. His natural ability to talk to anybody young or old with such ease and make them laugh makes me very proud."
Mr Johnson-Hatfield is described as white, of slim build, with short, blonde hair.
He was at the The Postern Gate pub with a friend at 23:30 on 19 November.
They returned to the York Central Travelodge on Piccadilly but he then left and went to a pub with a fellow hotel guest.
He did not return to the hotel and failed to arrive at work the following evening.
Mr Hatfield said: "There's a huge hole in our hearts that only the return of Rory can repair, so please let us all try and bring him back safe and well.
"You don't ever imagine yourself in this situation - it has been terrible, it has destroyed us."
Supt Adam Thomson, of North Yorkshire Police, said: "We're aware that the river is still in spate.
"Once the waters have gone down, we will be allocating a police search advisor to look at exactly how the floods may have effected the search area."