Storm damage leaves Leyburn homes without power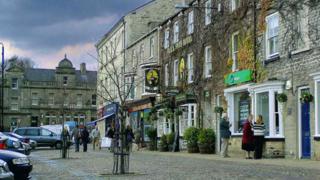 Power has been restored to more than 600 homes left with without electricity due to damage by Storm Desmond.
The properties in the town of Leyburn, near the Yorkshire Dales, lost their supply at 18:55 GMT on Friday.
More than 621 homes were originally affected by the power cut, but Northern Powergrid said it was able to restore electricity to 428 homes by "remote switching of the power network".
The company said it restored power to the remaining 190 homes on Saturday.
Elsewhere in the county, there have been reports of minor damage and small isolated power cuts due to the storm.