Mother Shipton: Work under way on town 'witch' statue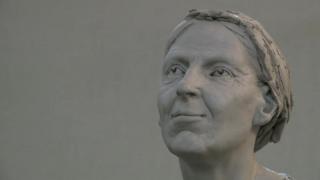 Work on a permanent statue of a North Yorkshire town's most famous daughter is under way after a campaign was launched to immortalise her.
A £35,000 fundraising push was started two years ago to create a statue of Mother Shipton in Knaresborough.
Legend has it that the prophetess was born in a cave by the River Nidd in 1488.
She is said to have predicted events such as the Great Fire of London and the defeat of the Spanish Armada.
Sculptor Chris Kelly is working on the piece, which is due to be unveiled in the town's Market Place next summer.
He said: "My workshop has been in Knaresborough for 18 years, so to do the commission here is just wonderful."