York to stage new Mediale biennial digital arts festival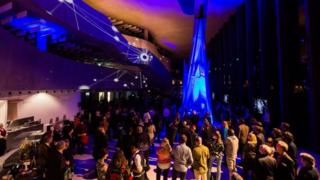 A new biennial digital arts festival is to be held in York involving up to 100,000 people.
The inaugural 20-day Mediale event will be staged in 2017-18 and is to showcase light shows, interactive exhibitions and technology displays.
A new "international" awards event to honour digital artists from across the globe is also planned, organisers say.
Culture Minister Ed Vaizey said it was "great to see how [the city was] showcasing this growing industry".
"A new international biennial is a hugely exciting prospect that will champion the next generation of talent and cement York's place on the artistic map," he added.
Marcus Romer, one of the organisers, said more than a "third of the festival's budget has already been pledged by local organisations and companies, with a fundraising programme now in place to source match funding and sponsorship".
York was designated as a UNESCO City of Media Arts in December last year.
A new trade guild has also been set up for people working in the creative industries.
In medieval times the guilds represented the trades of the city and the Guild of Media Arts is the first to be established in 700 years.