Harrogate street lamp replacement work delayed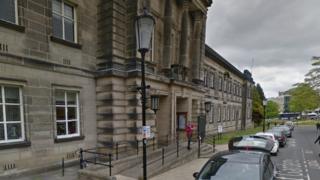 Work to replace historic street lamps has been put on hold after campaigners unveiled proposals to convert them to modern technology.
North Yorkshire County Council had planned to replace 240 "inefficient and unreliable" cast-iron lamps in Harrogate with modern steel versions.
But the town's Civic Society successfully appealed to delay the project for several weeks.
It believes the older lamps can be updated rather than scrapped.
The society plans to use a donated lamp post - which had stood in the town since the 1850s - to demonstrate the possibility of modifying them to use LED lights.
Chairman Henry Pankhurst said the group hopes to prove the method is an "economical" and "cost-efficient" method of leaving the lamp posts intact.
'Preserving heritage'
"We're obviously getting desperate now. We'd like the work to be finished on the converted lamp post so we can show it to the council electricians," Mr Pankhurst said.
Mr Pankhurst said Councillor Don Mackenzie spoke to lighting engineers after his appeal and agreed a short delay in the work.
Mr Mackenzie said the decision was "only fair" as the council values the work of the Civic Society in protecting the heritage of the area.
"We are mindful of the concern that the Civic society has in terms of preserving our heritage, but its a balance," he said.
"If it's too expensive and impractical then we just can't do it."
Mr Mackenzie added: "We are sceptical as to whether the conversion could take place within our budget cost of £900. We believe their proposed plan could be as much as two-and-a-half times more expensive."