Liam Miller stabbing: Samuel Donley jailed for N-bomb killing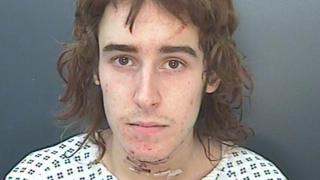 A man who killed his "adored" best friend and fellow band member in a "drug-crazed frenzy" has been jailed.
Samuel Donley, 20, stabbed Liam Miller 32 times and then attacked an innocent passer-by after experimenting with a hallucinogenic drug in July in York.
He was sentenced to six years and eight months at Leeds Crown Court after pleading guilty to manslaughter.
Donley was also given a concurrent sentence of 32 months for wounding Theophilos Theophilou.
The court heard the pair took the "potent and dangerous" illegal class A drug 25i-NBOMe, known as N-bomb.
Donley, of Hamilton Drive, York, who was 19 at the time of the attack, told police he was hallucinating and felt he was in a dream and had to stab Liam - whom he thought was a skull - in order to return to the real world, the court heard.
'Stabbed with kitchen knife'
Recorder of Leeds Judge Peter Collier QC said: "You bear the responsibility for the death of your close friend Liam Miller and also for the injuries caused to Mr Theophilou, an innocent passer-by."
Donley and Mr Miller had been close friends since they were 16 and there was no animosity between them, the prosecution told the court.
Mr Miller, from Terrington, near Malton, was found lying outside by Mr Theophilou, who tried to help him as he was stabbed again several times with a kitchen knife by his friend.
Donley then chased and attacked Mr Theophilou until a neighbour intervened and kept him inside his house, where he began to stab himself in the throat.
In a letter written to the judge, Donley said: "No outcome could possibly be worse than knowing my best friend, who I adored, has gone and I will regret that for the rest of my life."
"I only hope I can take what has happened to Liam and use it to teach people about the dangers of drugs in future to stop this from happening ever again," he added.