Bootham Park hospital: Health Secretary asked for inquiry into closure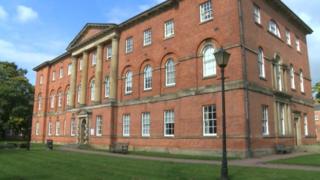 Health officials at City of York Council have called for an inquiry into the closure of a psychiatric hospital.
Bootham Park was told to close by the Care Quality Commission in September amid fears over patient safety.
A letter, sent by councillor Paul Doughty to the health secretary, said the city was left with no provision for acute mental health inpatient care.
He said an urgent investigation was required to get a "full, impartial picture of events" leading to the move.
The Department of Health said it would respond to the letter in due course.
Care Quality Commission (CQC) inspectors said there were serious risks to patients at the 18th Century hospital, with poor hygiene and not enough staff.
The Grade-I listed hospital had already been deemed unsafe following an inspection in 2014.
The Leeds and York Partnership NHS Trust was given five days notice to close the site.
'Inevitable impact'
Inpatients have either been discharged or transferred to other hospitals.
The Tees, Esk and Wear Valley NHS Trust took over mental health services in the Vale of York in October and said it wanted to reopen the site to treat outpatients.
Its long-term aim was to build a new psychiatric hospital in the area by 2019.
Councillor Doughty, chair of York Council's Health and Adult Social Care Policy and Scrutiny Committee, said there are serious concerns about the longer term provision of mental health services in York and the surrounding area.
"The Vale of York has been left with no provision for acute mental health inpatient care, with patients being taken outside the area for inpatients treatment, with the inevitable impact on the patients themselves, their families and their carers."
He added: "An urgent investigation would be the best way to get a full, impartial picture of events leading to the hospital closure".