Former Queen Ethelburga's chair of governors arrested over historic sex offence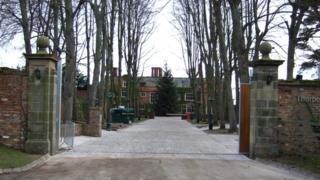 A former chair of governors at a North Yorkshire private school has been arrested in connection with an alleged historical sexual offence.
A spokesperson for Queen Ethelburga's College said Brian Martin, 66, had "stepped aside" from school matters.
North Yorkshire Police said no charges had been brought.
Police said: "A 66-year-old man was arrested on 20 October in Harrogate on suspicion of indecent assault on a child."
Mr Martin was also arrested on conspiracy to pervert the course of justice and voyeurism, police said.
No charges have been brought and Mr Martin has been released on bail while police inquiries continue.
Queen Ethelburga's is a school for boys and girls between three and 19, founded in Harrogate in 1912. It is now based at Thorpe Underwood near Little Ouseburn, York.
Mr Martin had already stepped down as chair of governors before the arrest and was handing over responsibilities as part of a planned management transition.
Allegations denied
A school spokesperson said Mr Martin denied the allegations.
He said: "Queen Ethelburga's Collegiate today confirmed that the former chair of its governing body has stepped aside from his day-to-day involvement with the school whilst a police investigation is carried out into an allegation of an historic sexual offence.
"Mr Martin has denied the allegation as being "wholly false". There has not been any allegation concerning current or recent pupils at the school."
Headmaster Steven Jandrell said: "We are naturally sad and concerned that this allegation should have been made.
"Whilst the investigation has no implications for the current welfare and safeguarding of the pupils at the school it is important that it should be thorough and full. In the light of this, and in the interests of transparency, Mr Martin has quite rightly decided, for the duration of the investigation, to step aside from his day-to-day involvement with the school."
He added Mr Martin was a "tower of strength" in building the "sound and outstanding" reputation of the school.