Dracula dog Whitby walking tour app launched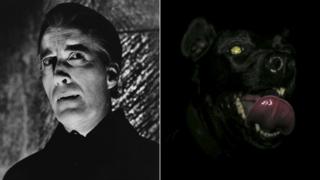 An app exploring the legend behind the black dog in Bram Stoker's seminal horror novel Dracula has been launched.
Developed to coincide with the 125th anniversary of Stoker's visit to Whitby it takes visitors on a tour of places linked to the mythical dog, known as the Barghest.
Stoker is said to have been inspired to adapt the tale for use in the novel.
The app takes visitors on a six-mile walk along the Cleveland Trail from Kettleness to Whitby.
The route takes in a cliff top location exorcised in the 1950s following a number of sightings and Tate Hill, in Whitby, where the wreck of a grounded ship, The Dmitry, inspired Stoker to create the shipwrecked Russian schooner The Demeter, from which Dracula jumped ashore in the guise of the black dog.
The app uses sound, images and dialogue to relate haunting stories attached to 13 locations in total.
It was created by the Bram Stoker International Film Festival with funding support from the North York Moors National Park Authority.
---
What is the Barghest?
Diane Purkiss, professor of English Literature at Keble College, Oxford, said: "It's a term given to the apparition of a great, black, generally thought to be a supernatural, dog.
"Barghest is the name for it in the north of England and the border country. In other parts of England it is known as simply 'The Black Dog' or just 'The Dog'.
"It is believed to be the Devil but in dog form.
"It is seen as a predictor of death; if you see it you will die soon."
Variations of the Barghest myth have featured in Sir Arthur Conan Doyle's The Hound of the Baskervilles and in J K Rowling's Harry Potter and the Prisoner of Azkaban, in which Sirius Black first appears as a black dog.
---
The team behind the app has also devised a second walking tour based on the plot of Dracula.
Mina's Trail retraces the route taken by one of the novel's heroines Mina Harker from a guest house on the West Cliff to Whitby Abbey.
Mike McCarthy, director of the Festival said: "While the Barghest Trail is more for those who like a good walk along a beautiful part of the National Park coastline, Mina's Trail is shorter and easier and will be a family-friendly way of introducing this classic tale to a new, younger audience.
"It will enable them to take part in the haunting drama by experiencing the journey from Mina's viewpoint and encourage them to take photos to see how their experience matches up to the original Dracula plot."