City of York Council to keep 'anti-homeless' bus stop benches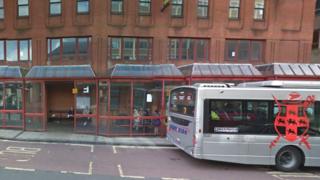 A council has refused to remove metal bars from bus stops in York despite a 5,400-strong petition claiming they are "anti-homeless".
The petition claimed the bench arms installed by York city council "deterred homeless people from sleeping rough in highly-visible places".
The council said the benches on Rougier Street were used by street drinkers rather than the homeless.
It made the decision to keep the bench arms for the benefit of bus passengers.
Richard Bridge, who organised the petition after the bars were installed on two benches in July, said it was "defensive architecture".
"The council should intensify work getting the help and housing required rather than decanting [homeless people] out to the darker corners of York," he said.
'Not homeless'
He said the council had displayed a "shocking" lack of engagement on the issue.
In response to the petition, the council said Rougier Street was central to the transport network, used by hundreds of people a day and that elderly and infirm people, and parents with children needed to be able to sit down when waiting for a bus.
It also maintained it supported vulnerable groups throughout the city.
"The clear position of the council is that no-one should have to sleep rough," the report said.
"We have over 90 hostel beds for people recently made homeless and over 50 beds for people who are longer-term homeless."
Rougier Street is not highlighted as a rough sleeping hotspot according to the council, but used predominantly by "individuals with access to accommodation, or have chosen not to access accommodation and fall into the category of "street drinkers" who used the benches during the daytime and early evening."
The report continued: "It is acknowledged that the street drinkers are themselves a vulnerable group, although in the main they have access to accommodation and are not homeless."