'Rude' place names censored at Harrogate WI fair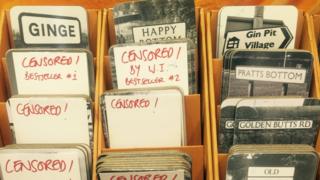 Wetwang, Cockermouth and Bell End were just some of the place names deemed too rude to be shown at a Women's Institute (WI) event.
Dominic Greyer said organisers of the WI's Centennial Fair in Harrogate asked him to cover up coasters, mugs and tea-towels featuring some of Britain's saucier-named towns and villages.
The author was selling merchandise for his book 'Lesser Spotted Britain' when asked to hide the offending items.
The organisers have yet to comment.
Mr Greyer said he was approached by a male organiser who described some of the promotional material as "unacceptable".
He was asked to put greetings cards in brown paper bags and cover place names with 'censored' stickers.
Mr Greyer said: "It was pretty farcical, it was like I was running an adult shop.
"I had to cover up what on paper seem like rude names but, in context, are real places from around the UK.
"It's just 'Carry On' humour, it's not like you can't drive past these places, they're all out there on the street for people to see."
The writer, from Manchester, said ladies approaching his stall during the event at the weekend were "gobsmacked" by the move and thought it was a marketing gimmick.
"Some of them were pretty put out and thought it was patronising," he added.
The locations deemed 'too rude':
Wetwang, East Yorkshire
Cockermouth, Cumbria
Three Cocks, Powys
Twatt, Shetland Islands
Bell End, Northamptonshire
Sandy Balls, Hampshire
Slack Bottom, West Yorkshire
Butts View, Derbyshire
Cocking, Sussex
Bully Hole Bottom, Monmouthshire
Minge Lane, Worcestershire
Assington, Suffolk
Juggs Lane, West Sussex
Furry Way, Cornwall
Rings End, Cambridgeshire
Guests of the event took to Twitter to share their confusion.
"Oh the censorship thing did have us rolling with laughter - we're just so delicate!" said one.
Other WI branches also waded in with their thoughts:
"At the fab @Lesser_Spotted stand at @theWI fair but shocked to find he'd been censored by the MEN who run the event! !" said the Cottonopolis WI.