Fortnight closure for A170 at Sutton Bank in North Yorkshire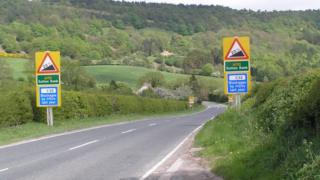 Sutton Bank is to be closed for two weeks from Monday for maintenance work.
The bank carries the A170 up an extreme gradient. The county council said the £250,000 programme of works needed to be carried out before the winter.
Traffic will be diverted along the alternate caravan route through Coxwold and Ampleforth.
A further six weeks of work will follow the closure, with temporary traffic lights controlling vehicle movements.
The council said it was impossible to complete the work, which also includes reinstating crash barriers, without the closure.