Police detective failed to report Jimmy Savile intelligence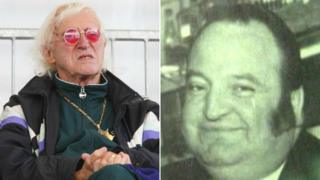 A detective failed to submit an intelligence report about Jimmy Savile and an ex-mayor after allegations were made against them, a report has found.
The Independent Police Complaints Commission (IPCC) investigated North Yorkshire Police's (NYP) handling of allegations of historical abuse.
The IPCC said there was no misconduct case to answer because claims against Savile in 2002 and those about Peter Jaconelli were examined "diligently".
NYP welcomed the report.
The IPCC looked at how the force handled information received in 2002 from a 37-year-old woman claiming she had been sexually abused by Savile when she was aged 15.
Investigated 'professionally'
It also looked at the force's treatment of two disclosures from a serving prisoner in relation to allegations in 2008 and 2009 of child abuse by Jaconelli, the late ex-mayor of Scarborough.
The IPCC investigation concluded the detective sergeant, a constable based at Scarborough/Filey CID at the time, investigated "diligently and professionally" in relation to both cases.
It stated the officer "should have submitted an intelligence report about Savile in 2002, based on his enquiries, which may have helped future investigations".
The officer also failed to complete intelligence reports in the investigation into the prisoner's disclosures, the IPCC found.
IPCC report: Summary of events
Woman's claims:
She told how, aged 16, she went to Savile's flat with a 15-year-old friend and there was sexual contact
The detective claimed the woman eventually told him that her friend would not make a complaint and refused to tell him any more about her
The woman met with the officer after Savile's death and she told him that she had lied about details of the incident in 2002
She said to the detective she had actually been alone with the presenter and she had been under-age
In a statement, the officer said: "I asked her if she now wanted to make a formal complaint about what had happened with Savile, and she refused to do so."
Prisoner's claims:
The prisoner was a convicted sex offender who was serving a lengthy custodial sentence at the time
He told officers Jaconelli had befriended him when he was a teenager living in the Scarborough area during the 1970s
He claimed he had driven unnamed associates of Jaconelli's to "parties" at the addresses in Leeds and Wakefield in West Yorkshire
Young boys would be picked up off the street, drugged and taken to the addresses to be sexually abused, he told officers
He could not identify the addresses and could not say how he knew this had taken place
Carl Gumsley, IPCC commissioner, said: "North Yorkshire Police has previously admitted that they missed opportunities to look into allegations against both Savile and Jaconelli while they were alive.
"Had intelligence information been better recorded it would have helped build up a picture of Savile and Jaconelli's activities."
NYP Assistant Chief Constable Paul Kennedy said the report "gives clarity to the events that led to the voluntary referral to the IPCC and clears the officer of any misconduct".
"While there are learning points to take from the report, it is also balanced by acknowledging the officer's tenacity and competence in dealing with serious matters."
He said the force now had specially trained officers who were "dedicated" to investigating such offences.
Allegations
NYP said 35 people had come forward with allegations about the pair.
Thirty-two allegations between 1958 and 1998 related to Jaconelli, which included offences of indecent assault, inciting a child to engage in sexual activity, gross indecency and rape.
There were five reported allegations against Savile dating from 1979 to 1988. The offences ranged from sexual assault to rape.
Allegations were made by two people who claimed to be victims of both men.
The IPCC is conducting a separate investigation into how NYP handled a report received in October 2000 from a man alleging, as a young boy in the early 1970s, that he was sexually assaulted by Jaconelli at locations in the Scarborough area.
The force is also conducting an ongoing criminal investigation into historical child sexual abuse allegations.
Jaconelli, who ran an ice cream business in Scarborough, died in 1999. Savile died in October 2011.