Peregrine chicks disappear from Sutton Bank nest in North Yorkshire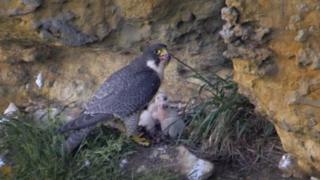 Three peregrine falcon chicks have gone missing from a nest in North Yorkshire, sparking a police investigation.
Wildlife enthusiasts had been watching the chicks and their mother and last saw them on the evening of 27 May.
However all of the birds, which can be sold for thousands of pounds, disappeared from their Sutton Bank nest in the North York Moors before 4 June.
North Yorkshire Police is investigating whether the disappearance was because of a predator or a criminal act.